I am older than this now, but you can see my story "So Far" in parts.
Celine's Story So Far (Scroll down on page sides to see 19 pages)
Endocardial Cushion Defect. Atrioventricular Septal Defect
PDA - Patent Ductus Arteriosus
TOF - Tetraology Of Fallot - link for our friends
Important Article DNA is NOT DESTINY - Discover Magazine November 2006
Leading on from that article is the whole study of the science of Epigenetics
We introduced Celine to the Glyconutrients – 6 months old. Within the first week we noticed the strengthening up with her joints – not so floppy and other people noticed a change in her alertness. There were some dramatic changes on the growth development graph – moving steeply upwards, then tracking along normal. For a long time now the clothes we bought Celine no longer have to get the legs and sleeves turned up, because her limbs are now normal proportion, through the release of the body's own stem cell activity.
At the last visit to the Paediatrician Doctor she had the BMI graph readings of a normal 10 year old girl. Although more common for children with her condition to be on antibiotics for various reasons, our daughter to date has not had to be on antibiotics.
Celine with her sister Kate and her horse.
Celine dancing with Grandma
| | |
| --- | --- |
| Water Cold | |
| | Water OK |
Shot Put at School sports
Celine Posing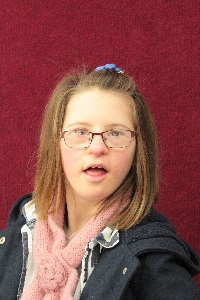 Celine could regurlarly swing at full pace for up to an hour at a time.
When she got to a swing it was going to be 30 minutes minimum but many times well over 1 hour.